AT89S52 Starter USB Kit with programmer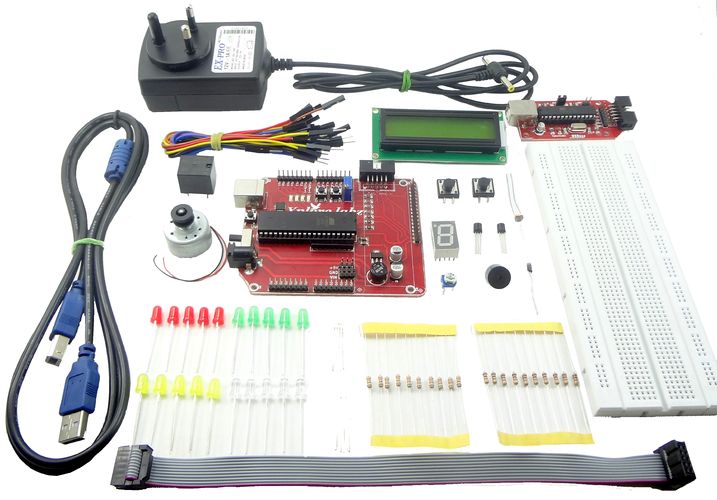 8051 Starter USB Development kit is designed kick start your 8051 Development without any hassles. The Kit was made after a lot of thought on making it the best combination of easily available parts with minimal cost and great quality. Keeping in mind that this being used by hobbyists, learners and students there are chances of MCU going bad, hence we choose a low cost AT89S52, which is easily available at great price! Our intent was to make the kit complete in all aspects, ready to go!
Kit Contains:
8051 Starter USB Development Board with AT89s52 MCU
USBasp based AT89S Series Programmer
Power Adapter 12V 1A
LCD 16 x 2
Switches 12mm (x2)
LEDs 5mm x20
LED RGB x2
7 Segment
Buzzer
Relay
Pot 10K
DC Motor
Light Dependent Resistor (LDR)
Temperature Sensor (LM35)
Transistor BC547
Resistors: 1K, 10K (10 each)
USB Cable 1
Jumper wires male to female x15
Breadboard
Downloads
To connect Development board with computer USB driver is required.
Windows USB to UART Drivers for CP2102
Schematic
8051 USB Development Board Schematic
Code Library
For more details, downloads, tutorials and support click here to visit the product support page!
We are build this stuff, check back again soon!
We are build this stuff, check back again soon!